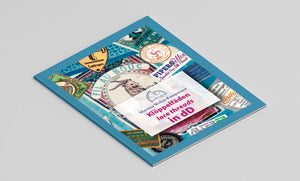 Lace threads - in dD
$1900

$19.00
Tax included.
---
---
This book is an overview of all the threads that can be used for bobbin lace. The threads are arranged according to actual strength, based on a new measuring method, on which the author wrote a doctorate in Belgium. Illustrated labels of the thread spools facilitate the retrieval of own yarns.
In each book there is an access code for the thread database at: https://www.wolter-kampmann.de, which lists all bobbin threads of cotton, silk, linen, metal and also sewing threads at the most current level.
In this book, all threads are arranged according to their actual diameter thickness dD (average thread diameter in 10 Micrometer).
With the purchase of the book you get one year free access to the associated thread database.